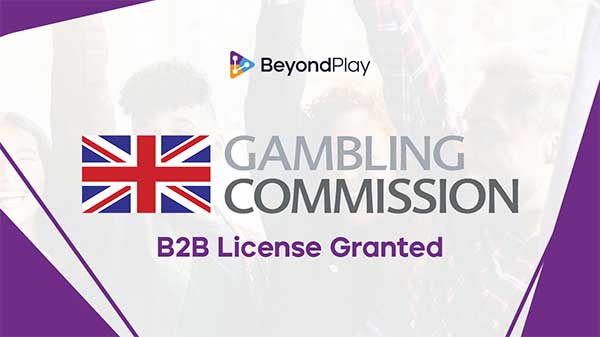 BeyondPlay, the B2B start-up developing next-generation engagement software for online operators, has been granted a licence by the British Gambling Commission.
The securing of a Remote Casino Host and Gambling Software Licence from the Gambling Commission follows the granting of a B2B Critical Supply Licence from the Malta Gaming Authority in December 2022.
The GB licence is another major milestone for BeyondPlay, which offers a portfolio of community-oriented products that transform solo game sessions into captivating multiplayer entertainment experiences. Further licence applications are underway for Ontario, Sweden and various US jurisdictions.
Karolina Pelc, Founder and CEO of BeyondPlay, said: "This stamp of approval marks a momentous occasion, as BeyondPlay will introduce new and thrilling gaming experiences, offering unparalleled entertainment value and community play for real-money gaming operators in Great Britain.
"Our Multiplayer product boasts an array of features that exceed standard responsible gaming requirements. These features include low-stake and community-pooled betting, spectator mode and time-outs, which ensure that players can enjoy the product in a secure and enjoyable environment.
"We are extremely grateful to the team at Harris Hagan and our investors for their advice, cooperation and support throughout what has been a detailed and thorough qualification process, especially given the evolving nature of the product and investment structure of the business."
Bahar Alaeddini, Partner at Harris Hagan, added: "We are very pleased to have navigated BeyondPlay through their licence application and to have played a part in their journey to obtaining a GB licence.
"Karolina and her fantastic team worked diligently, passionately and relentlessly, and always with good humour, throughout the process. We are thrilled for them and excited to watch BeyondPlay grow and see the opportunities that lay ahead."
In February 2023, LeoVegas Group divested its initial 25 per cent shareholding in BeyondPlay to a group of strategic investors, including venture firm Bettor Capital. In under two years, BeyondPlay had generated a 73 per cent return for the Group's investment arm, LeoVentures, and the transaction formed part of BeyondPlay's larger fundraising effort, which is now complete and to be announced in due course.
The start-up has already secured four tier-one partners for its solutions, in Casumo, ComeOn Group, LeoVegas Group and Soft2Bet, with roll-out scheduled throughout Q2 and Q3 of 2023, and there are more partnerships in the works.
Related and similar