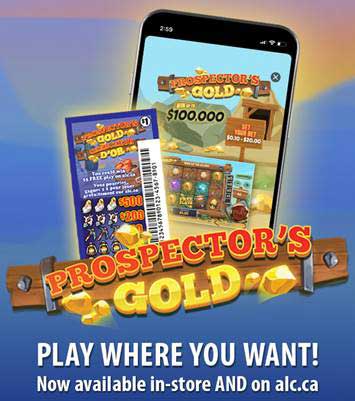 Instant Win Gaming (IWG), a leading eInstant supplier to WLA/NASPL lotteries, has partnered with Atlantic Lottery Corporation (ALC) to produce omnichannel games. Select IWG's eInstants are being simultaneously recreated as retail instant tickets and pull-tabs.
Omnichannel eInstants, meaning digital games that are launched with retail companion tickets have become common with many lotteries. Often, an eInstant is developed that adopts the visual theme of a planned retail game. In the case of ALC, they have elected to print retail games that match the visual themes as well as the functional mechanics of already popular eInstants.
One of IWG's classic eInstants, Super Cash Buster, has been connecting with a wide player audience throughout the Atlantic provinces for several years. ALC has worked with their retail instant game supplier, Scientific Games, and produced a printed version of the same game.
This month, ALC launched a pull-tab version of IWG's Prospector's Gold eInstant. IWG and ALC anticipate additional omnichannel games, based on popular eInstant titles.
Rhydian Fisher, IWG CEO, said: "Thank you ALC for this latest opportunity. Over the past 20 years, it has been common for our lottery partners to ask us to create eInstants that match already popular printed games. Now it's equally common for our lottery partners to ask their printed game suppliers to develop games that incorporate proven IWG brands. We are thrilled to see our themes and mechanics convert into very successful retail games."
Robert Lalonde, ALC Director of iGaming, said: "Atlantic Lottery is excited to develop new omnichannel games with IWG. ALC players do not see retail lottery and iLottery as different products, but rather as different sales channels. Thank you IWG for helping with our continued efforts to integrate our online and retails channels."
Related and similar