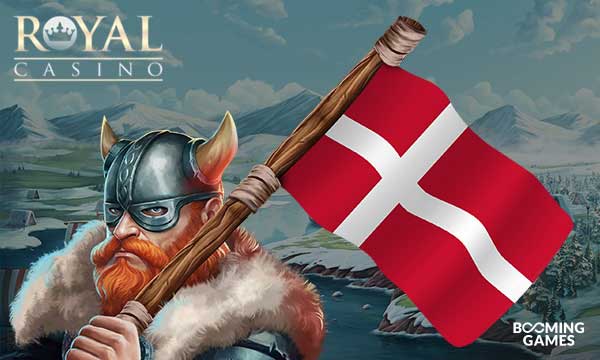 Leading slot supplier Booming Games has set its sights on the Danish market, forging a strategic collaboration with the esteemed operator, RoyalCasino.
This dynamic partnership marks Booming Games' inaugural venture into the Danish gaming landscape, a significant step that underscores the company's growing European reach in regulated markets.
Boasting an impressive legacy of 32 years in the gambling industry, Royalcasino.dk stands out as the premier licensed operator to feature Booming Games' as they enter the Danish market. This strategic alliance with
the Danish RoyalCasino Group not only attests to Booming Games' innovative progress but also aligns with RoyalCasino's proven track record of navigating the dynamic gaming industry while upholding customer loyalty.
By partnering with RoyalCasino with Booming Games only being available on RoyalCasino.dk for an entire week, Booming Games seizes a remarkable opportunity to introduce its engaging content to a broad audience through a trusted operator. This collaboration reflects the shared commitment of both entities to deliver top-notch gaming experiences in the Danish market, fostering excitement among players and industry enthusiasts alike.
Booming Games brings its distinctive touch to this new audience, presenting a range of beloved titles, including acclaimed gems like TNT Bonanza, Cash Pig, Buffalo Hold and Win, The Wild Wings of Phoenix, which are top performers and loved by players in many markets.
As the partnership unfolds, Danish players are in for a treat, as Booming Games elevates their gaming journey with its captivating offerings, all made possible through the exciting partnership with RoyalCasino.dk.
Frederik Niehusen, Chief Commercial Officer at Booming Games, said: "Our partnership with RoyalCasino, a pioneering name in the gambling sector, signifies a remarkable milestone for our organization. Renowned for offering players the utmost in safety, fairness, and reliability, RoyalCasino stands out prominently. This collaboration serves to significantly enhance our foothold in the Danish market."
Per Petersen, CEO of RoyalCasino, said: "We're excited to extend a warm welcome to Booming Games, a prominent game provider known for their captivating and varied game collection. We're confident that their games will perfectly cater to our players' preferences. We're eagerly looking forward to the growth and success of this partnership, which we're convinced will be advantageous for both sides."
Related and similar