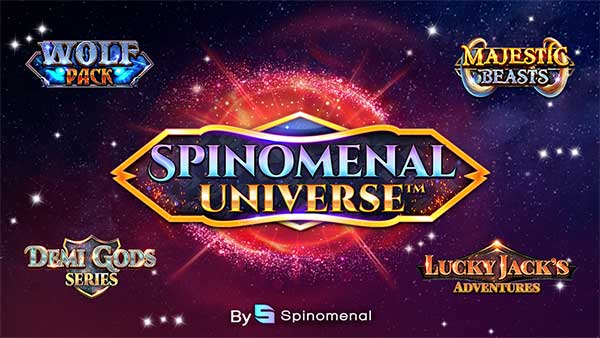 Spinomenal, the leading iGaming content provider, has launched its revolutionary shared Universe project with three new titles, Demi Gods IV – Thunderstorm, Wolf Fang – Iron Wolf and Majestic King – Sunset.  

Spinomenal will launch these games throughout May, as part of a Network Tournament campaign, which will be the grand premiere of the new games series and the universe. This industry-first vision will mean that players will be able to immerse themselves in a world where their favourite characters from separate series coexist in the same environment.
The innovative project by Spinomenal is supported by state-of-the-art technology that promotions, activities and growth strategies can be seamlessly introduced in the future.
Each new game has evolved from the adventures within the hugely popular separate Demi Gods, Wolf Pack and Majestic Beasts Series. Promotional activities will feature prominently and these include regular Network Tournaments where players will have repeated chances of landing the prize pool total.
The first game to make its debut is Demi Gods IV – Thunderstorm and the tournament will commence on Tuesday 2nd May 2022.
The Spinomenal Universe concept has been created in such a way that it drives unrivalled engagement and retention levels as players transport themselves into imaginative worlds. Spinomenal's tech expertise means that before long players will be able to control their own destinies by choosing how the next chapter unfolds and which characters meet next.
Spinomenal's Chief Commercial and Operation Officer Nir Ronen, commented: "Players have come to adore the leading characters from our series and we wanted to take that to the next level by introducing our Spinomenal Universe concept. Thanks to this industry-first game series strategy, players can immerse themselves in storylines that amalgamate different worlds and the tournament feature means there are potentially huge prizes on offer each month."
Related and similar