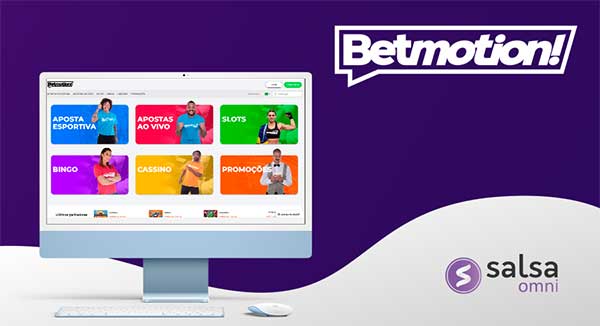 Betmotion has launched its new player-centric website which has been designed using Salsa Technology's advanced tech capabilities.
The revitalised front-end has been expertly designed to allow for a more intuitive experience that is frictionless to navigate. Alongside a rich array of sports and online gaming offerings on Betmotion, users now have even quicker page load times and menus that are seamless to move between.
This smart new website was developed by Salsa Technology all the way from concept to the finished product seen today on Betmotion.com. Salsa led the visual concept ideation process that was guided by multiple user stories that helped shape the intuitive site that has an unrivalled player experience as its driving force. Over the course of a few months there was involvement from developers, functional analysts, customer support, and quality assurance professionals, that gave the Salsa team a picture of what was required to deliver the project.
The only online entertainment site with Brazilian DNA, Betmotion is one of the main supporters of national sport, valuing principles such as transparency, security, solidity, trust and social. The operator presents players with as many as 3,500 games that are complemented by a wide range of markets such as sports betting, bingo, casino and slots. All this is supported by an outstanding live streaming service that includes more than a thousand sporting events that covers 12 European football leagues including Ligue 1, La Liga and Serie A.
"Our new website is amazing, responsive, clean, easy to navigate, and features a wealth of entertainment offerings. We are very happy with the final result and users will be too thanks to our player-focused approach that will drive even greater engagement levels", celebrates Betmotion country manager in Brazil, Fernanda Gomes
"The Salsa Omni platform is at the heart of Betmotion's operation and provides the perfect foundation to build a successful customer-facing operation. Our PAM (Player Account Management), has an extremely robust back office, with a complete set of features that is essential for any business looking to succeed in LatAm. Our challenge and our achievement was helping Betmotion better align its front end with the leading back-office that drives the business." explains the manager of functional analysis, customer support and quality of Salsa Technology, Jefferson Torquato.
Related and similar