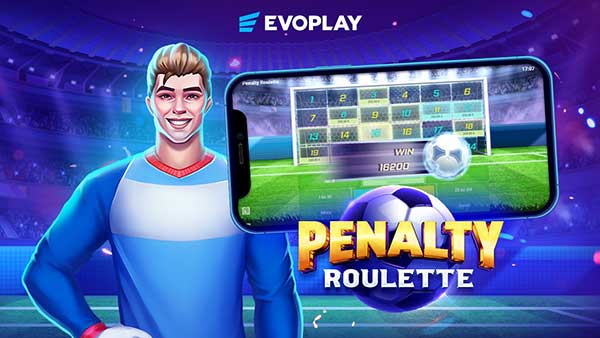 Award-winning game development studio Evoplay has released its latest title, blending a casino classic with the exhilaration of a football match in Penalty Roulette.
Taking its Football Pack to soaring new heights, the new instant game takes inspiration from the casino player favourite, roulette, and fuses it with a similar theme to its Penalty Shoot-out releases.
Penalty Roulette swaps out the beloved wheel for a football net in a packed-out stadium surrounded by cheering fans, where users can place up to 11 bets on the one round before the striker takes his shot.
Boasting an array of options to bet on, including numbers, colours as well as a saved or scored goal, players can amplify their winnings with multipliers being awarded for each correct selection.
Thanks to its multi-bet capabilities, Penalty Roulette can award an impressive maximum win of over 48x a player's bet.
Evoplay's latest football-themed game follows a string of similar releases such as Penalty Shoot-out Street and Long Ball and is set to replicate their success in converting sports fans to the world of iGaming.
Commenting on the launch, Ivan Kravchuk, CEO at Evoplay, said: "Evoplay is delighted to present our new instant game, Penalty Roulette. Reinventing the live casino favourite as we know it and capturing the thrill of a football match, its mass appeal makes it a fantastic new addition to our Football Pack.
"With a multitude of betting options, it means there are endless possibilities which creates a much higher win potential than standard roulette and caters to a wide variety of players, regardless of their preferences for higher or lower risk experiences."
As well as going live with multiple tier-one providers, including Bragg Gaming, Fortuna Entertainment Group and Relax Gaming, Evoplay also won the coveted Innovation in Casino Entertainment award as well as Casino/Slots Developer of the Year at the 2022 SBC Awards.
In addition, at EGR's 2023 B2B Awards, Evoplay secured the Innovation in Mobile award, a testament to Evoplay's reputation as one of the industry's most exciting suppliers.
Related and similar