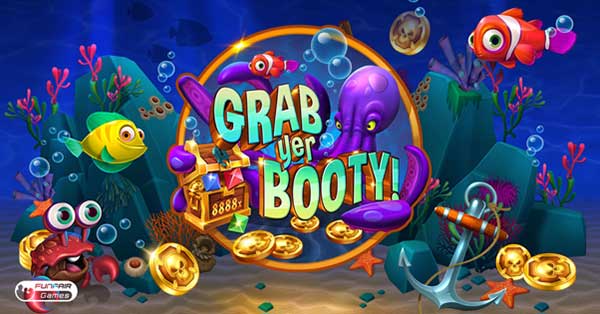 FunFair Games has released its latest Crash-style multiplayer game, Grab Yer Booty!, offering a unique experience for generation Y and Z players.
The game invites up to 12 players to test their luck underwater, as they face-off against an Octopus on high alert, guarding three pirate treasure-filled chests.
The daring divers must pick a chest to steal from and be ready for action as they watch the multipliers increase their winnings. They must select the optimal time to grab their booty and act quickly before the eight-limbed monster slams the chest shut, leaving divers with nothing but bubbles.
With a maximum multiplier worth 8888x, players can be certain that their voyage to the deep-seated treasure will be worthwhile, but only if they're the smartest deep sea diver.
Complete with vibrant visuals, captivating sounds and entertaining gameplay, Grab Yer Booty! enhances FunFair's multiplayer offering, as the industry-leading studio grows its portfolio of successful next generation games.
Grab Yer Booty! will be distributed via EveryMatrix RGS Matrix's platform.
Every FunFair game is designed to provide high-octane entertainment in a social and active way, to appeal to a new generation of gamblers who look for unique games which offer something different.
Lloyd Purser, COO of FunFair Games, said: "We're delighted to announce the release of Grab Yer Booty! an ambitious new Crash-style game that provides something not seen in the that universe before.
"We're always looking for ways in which we can reinvent traditional games and enhance our portfolio with a shift towards multiplayer games. With Crash-style titles more popular than ever, we feel this latest release does both."
Ashley Bloor, Business Owner of RGS Matrix, said: "We're really impressed with the unique content FunFair Games is producing and Grab Yer Booty! is another fantastic addition to their multiplayer offering. The content has quickly gained a big fan base and we are thrilled to be able to provide our operator partners with this exclusive game which will only continue to grow in popularity."
Related and similar