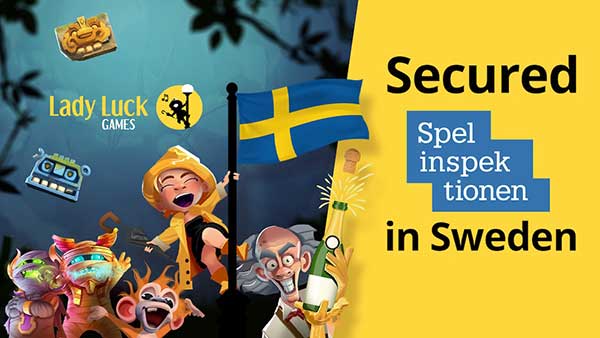 Lady Luck Games, a renowned provider of captivating and innovative casino games, is delighted to announce that it has been granted a Swedish gambling license by the SGA Swedish Gambling Authority (Spelinspektionen).
This significant achievement marks an important milestone for the company as it expands its presence in the Swedish market and reinforces its commitment to providing exceptional gaming experiences to players in Sweden.
With the newly acquired Swedish gambling license, Lady Luck Games can now offer its exciting portfolio of casino games to players in Sweden. This regulatory approval showcases the company's dedication to compliance and responsible gaming practices, ensuring a safe and secure environment for Swedish players to enjoy their gaming activities.
The CEO of Lady Luck Games, Mads Jørgensen, expressed his excitement about the partnership, stating, "We are thrilled to receive our Swedish gambling license, enabling us to bring our innovative and immersive casino games to the Swedish market. This license is a testament to our dedication to compliance, responsible gaming, and delivering top-notch entertainment experiences to our valued players."
Lady Luck Games is committed to upholding the highest standards of player protection, responsible gaming practices, and regulatory compliance. The Swedish gambling license enables the company to offer its cutting-edge slot games, including popular titles like Popeye, Astro Anna, Spinjoy Megaways, Treasures of Tizoc, and many more, to Swedish players. With a diverse range of themes, exciting features, and engaging gameplay mechanics, Lady Luck Games provides an unparalleled gaming experience tailored to the preferences of Swedish players.
"We look forward to serving our customers in Sweden and extending our warmest welcome to all players who are fans of Lady Luck Games," commented Julian Borg-Barthet, the CCO of Lady Luck Games.
"Our Swedish gambling license opens up new opportunities for growth and allows us to deliver exceptional entertainment to a wider audience. We are dedicated to continuously enhancing our games and providing innovative experiences that captivate and thrill our players."
Related and similar