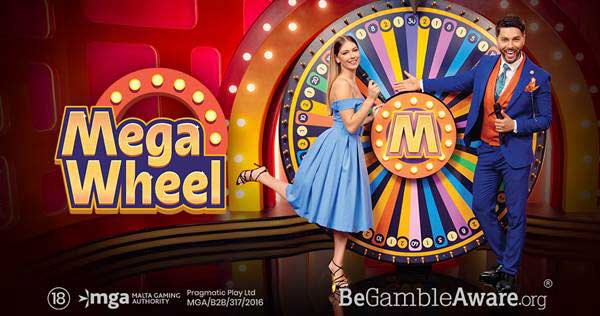 Pragmatic Play, a leading content provider to the gaming industry, has launched its thrilling new Live Casino game of chance, Mega Wheel.
Players will get the unique experience of feeling like they are on their favourite TV gameshow, hosted by Pragmatic Play's team of engaging presenters. The game features a super-sized wheel with 54 multi-coloured segments where each numbered segment signifies a corresponding payout for winning players.
The aim of the game – inspired by the ever-popular Big 6 and Money Wheels concepts – is to predict the correct number when the Mega Wheel stops spinning, with the chance to win up to 40 times the amount bet. One number on the wheel in each round of spins will be selected randomly as the Mega Lucky Number. This will boost players' winnings up to a monster 500 times their bet in a Mega Win.
Key features of the game include "Autoplay", "Bet on All" which covers all 9 bet types in one move, "Advanced Bets Validation", a detailed Bet History, as well as the option to chat with the game host, other players or the Support team. The operating language is English, with more than 100 currencies and 20 UI languages available.
Players will be able to chat and engage with the hosts during the game, bringing them closer to the experience of the ever-popular TV gameshow format. The state-of-the-art studio was specially designed for the game featuring dynamic colours, lights, sound effects and animations automatically changing as the game progresses.
Lena Yasir, Vice President at Pragmatic Play, said: "Game shows are truly a landmark in the relentless player-engagement focus that is the world of live casino. We're beyond happy to provide a product that's perfectly in line with the current market demand and to reveal today our take on the popular live casino game shows, the first only of many more to come.
"We believe that Mega Wheel is packed with entertainment value that appeals to a wide range of player profiles, which in turn delivers plenty on the potential for conversion."
Pragmatic Play currently produces up to five new slot titles a month, while also delivering Live Casino and Bingo games as part of its multi-product portfolio, available through one single API.
Related and similar