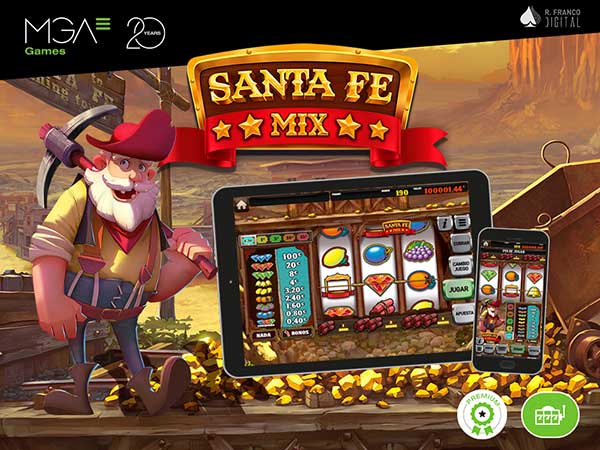 Santa Fe Mix, one of the most popular hospitality machine games in the history of land-based gambling, launches in its digital version for casino operators throughout Spain. This is possible thanks to the collaboration agreement between the leading iGaming developer in the country, MGA Games, and Grupo Recreativos Franco, creator of the legendary machine.
Both companies have worked together to bring the historic 3-reel land-based slot game to the digital environment. MGA Games has managed to adapt Santa Fe Mix to online entertainment while maintaining the philosophy and style of the classic slot game. With authentic original voiceovers and the characteristic sounds of the reels from the original machines, the online version includes new features that make quite a difference, such as new mathematics, the adaptation of the reels, and the implementation of new ergonomic keypads.
Where the unmistakable expertise from MGA Games is most appreciated is in the mobile version of the slot game. Santa Fe Mix can be played on any device, anywhere, without waiting or worrying about download times. Thanks to the commitment by MGA Games to technology and constant mobile optimisation, this new production is presented as the best option for online casino operators.
In fact, the exclusive premiere of Santa Fe Mix on Pokerstars, on March 7th, proved the success and excellent results of this slot game, becoming the operator's "Game of the Week" for 14 days.
As in the original story, this 3-reel slot game takes players on a journey through lands brimming with gold and diamonds. Its main character, the popular miner, and his inseparable donkey work hard under the desert sun to find every last nugget of this precious metal. Gold and copper ingots, sticks of dynamite, diamonds, pickaxes, and horseshoes are the symbols that transport you to another time and place amid the gold rush.
Among the many features of this slot game are its attractive medium volatility, access to the top game with bonuses, and the 4 fun mini-games. With mine-carts loaded with precious metals, bank safes, rivers full of gold nuggets and wanted posters, this trip on the wild side pays off.
The Santa Fe Mix production is the result of the first collaboration between MGA Games and Recreativos Franco Digital and the beginning of many to come. Both companies have agreed to distribute six great games from the land-based world – in addition to Santa Fe Mix, coming soon are Gnomos, Neopilis, RF Angels, Bowling, and Burlesque.
Santa Fe Mix is available for all online casinos in the Spanish market from Monday, 28th of March. Its launch also coincides with the re-launch of the R Franco Type B machine, which ensures an outstanding presence of the slot game both in land-based and online play.
Related and similar