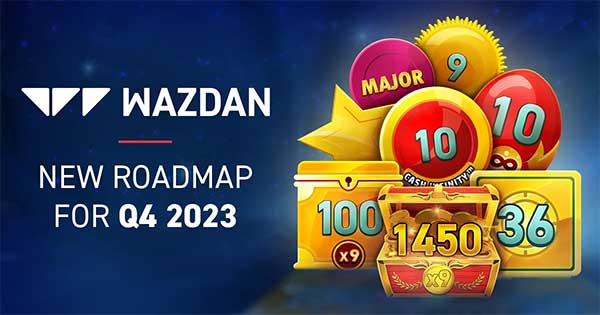 Wazdan, the innovative games provider, has showcased its roadmap for Q4, with the provider rolling out 10 slot titles as well as a number of lucrative promotions.
The last quarter of 2023 will see the introduction of its Extremely Light slots series, which was designed to reduce energy consumption while delivering spectacular gaming experiences. Simplified graphics and animation guarantee lower data usage, allowing players to spin longer and enjoy the game without unnecessary distractions.
This optimisation results in benefits such as prolonged battery life, reduced loading speeds, and smoother gameplay on all types of devices. Despite the streamlined visuals, Extremely Light games retain all the features that players love, ensuring a focused and immersive gaming experience. Finally, the reduced energy consumption and data transfer of Extremely Light slots contribute to their status as environmentally friendly.
This year will also see the launch of new titles such as 9 Bells™, 20 Coins™ and Book of Faith™, which are set to be huge successes thanks to their innovative approach to players' needs. They will also get the new Black Horse™ Cash Out Edition, which will be an extension of the highly popular series. For the most demanding players, who appreciate luxury, Wazdan has designed two prestigious titles, 9 Coins™ Grand Diamond Edition and 12 Coins™ Grand Golden Edition, offering true glitz and glamour.
See the full roadmap:
Burning Sun™ Extremely Light – 7th September 2023
Hot Slot™: 777 Cash Out Extremely Light – 28th September 2023
9 Coins™ Grand Diamond Edition – 5th October 2023
Sizzling Eggs™ Extremely Light – 26th October 2023
Hot Slot™: 777 Coins Extremely Light – 2nd November 2023
12 Coins™ Grand Gold Edition – 8th November 2023
Black Horse™ Cash Out Edition – 30th November 2023
Book of Faith™ – 5th December 2023
20 Coins™ – 7th December 2023
9 Bells™ – 14th December 2023
In addition, the developer will roll out a series of network promotions, totalling up to a substantial prize pool of €2,500,000. These will incorporate both classic titles as well as upcoming games, to ensure a broad player base can engage with the fantastic promotions.
All the promotions will be launched through the award-winning Mystery Drop™ promotional tool, which has proven to be a spectacular success for the provider since its introduction earlier this year.
The provider has also announced the launch of its brand-new promo tool, Jackpot Rain™, expanding its suite of engagement-boosting features designed to increase casino operators' results.
In addition, Wazdan will be in attendance at a number of industry shows, headlined by the SBC Summit Barcelona and SiGMA Europe, to showcase its new games and features.
Andrzej Hyla, Chief Commercial Officer at Wazdan said: "It has been an extremely rewarding year for us so far, and we're thrilled to be unveiling our roadmap for the end of 2023. With 10 new games in the pipeline and a plethora of exciting promotions, we're excited about what the close of the year holds for us.
"Working closely with our operator partners, we've been able to generate fantastic products that have added real value to their offerings, such as Mystery Drop™, and we're confident that this will only lead to further success for us down the line."
Related and similar