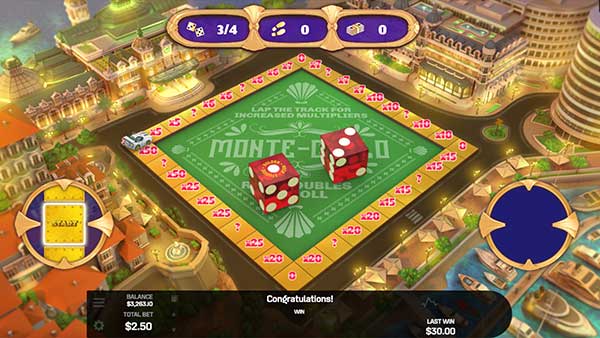 Golden Rock Studios is proud to announce the release of Bonus Only, available now via Caleta Gaming Platform. Bonus Only is a first of its kind slot game featuring nothing but bonuses. That's right, a slot game in which every win takes you to a bonus round.
Trigger up to three different bonus rounds and take a trip around some of the most iconic casino locations in the world. Perfect for entertainment hungry players and bonus hunters due to the frequent bonuses available, all this makes for an exciting slot game with anticipation levels reaching fever pitch with every spin.
Take a trip to the glitzy Las Vegas, Macau, or the Monte Carlo bonus rounds by matching just three symbols on any win line. With near miss re-spins and extra rolls also available there's so much excitement. In each bonus round just jump into the car, roll the dice and make your way as far around the trails as you can for the biggest wins, picking up multipliers, and mystery pick cards to help you along the way.
Bonus Only is a low volatility game with a 96.21% RTP. Featuring a low minimum bet and a very nice max win potential of 1750x your total bet, this game is perfect for free spins and truly offers players a genuine chance to win big often with bonuses and not having to pay extra for the chance to do so.
Will Mathieson, Golden Rock Studios Founder & Chief Product Officer said: "Bonus Only is the first of its kind with no base game payouts with all the RTP going into the three bonus rounds. This means we can give players a great hit rate of 1 in 15 spins to trigger a feature. We are really excited about Bonus Only as a slot that appeals to a wide reaching demographic from low to high rollers and new to professional slot players."
Related and similar