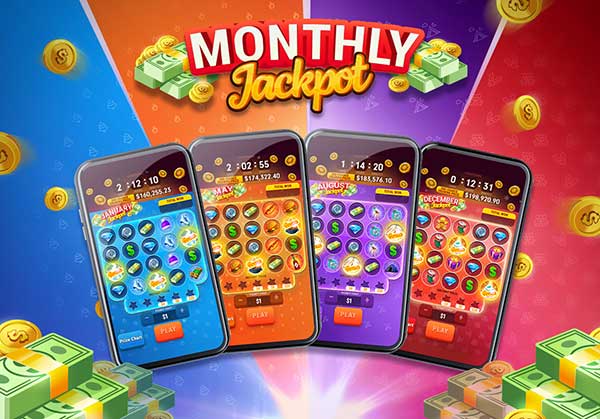 Instant Win Gaming (IWG), a leading supplier of eInstant games to NASPL/WLA-member lotteries, announced the launch of a first-of-its-kind jackpot game, titled Monthly Jackpot, for the Michigan Lottery. The new game is powered by InstantReplay, IWG's second chance feature-set, and InstantPulse, the Company's auto-updating graphics and visuals.
Monthly Jackpot is a brand-new reactor-tumble eInstant that features a second chance progressive jackpot prize that is awarded once per month. Players accumulate entries into the second chance drawing simply by playing the game. A portion of game sales funds the second chance prize. At the end of each month, the Lottery conducts a drawing with one player guaranteed to win the jackpot prize.
Additionally, on the first day of each new calendar month, game visuals automatically update with entirely new colors, symbols, and themes. This serves to emphasize that the second chance progressive jackpot has been reset with a new chance to win.
InstantReplay and InstantPulse are completely contained within IWG's InstantRGS™ (remote game server) ensuring that lotteries can launch eInstants that feature these capabilities with no development support necessary at the iLottery platform level.
The launch of Monthly Jackpot signals another milestone in IWG's long-term partnership with the Michigan Lottery. Recently, the Company secured a contract extension to continue supplying its full suite of InstantGames™ digital eInstants to July 2026.
Rhydian Fisher, IWG CEO, said: "Monthly Jackpot blends InstantReplay and InstantPulse to deliver a truly novel eInstant. It's fantastic to see this game go live with our long-time partner, the Michigan Lottery. We put a lot of effort into delivering a brand-new style of eInstant progressive jackpot that is fully in keeping with a traditional lottery second chance program. And, we expect the game's frequent updating of colors, symbols and themes to set a whole new standard for eInstants going forward. Credit must go to the Michigan Lottery for becoming the first to launch Monthly Jackpot, and we're confident it will lead to superior results."
Related and similar