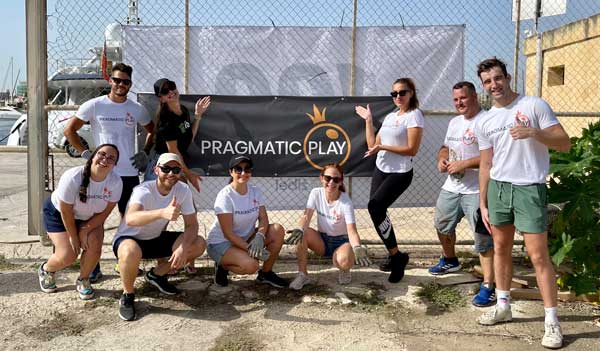 Pragmatic Play, a leading content provider to the iGaming industry, continues in its commitment to contribute to local communities, most recently with two separate donations of €6,000 to NGOs in Malta.
 
On World Clean Up Day towards the end of September, Pragmatic Play donated €6,000 to Żibel, a Maltese NGO, that organises environmental cleanups and raises awareness of the modern-day problem of waste management.
 
Pragmatic Play employees helped Zibel's divers remove over nine tonnes of waste from the sea.
Divers removed the waste from the sea floor while the volunteers on land divided up the rubbish to enable its correct disposal. Not afraid of getting their hands dirty, the Pragmatic Play team got stuck in and sifted through metal, glass bottles, car batteries, ropes, tyres and… pretty much everything else you can imagine.
 
The sheer amount of waste was a stark reminder that just because it's underwater, it doesn't mean it's gone.
 
A few days after this, Pragmatic Play donated €6,000 to Friends of the Earth Malta and visited the team there to see the great work they do. The donation will go towards the BeeAware campaign which promotes awareness of bees, pollination and the negative effects of pesticides and toxic chemicals absorbed by plants and flowers. The BeeAware campaign will also involve the creation of a Bee Garden wherein the volunteers are planting flowers, trees and shrubs for bees to have a safe environment and a variety of food sources.
 
Unfortunately, due to man-made reasons involving pesticides used in mass production farming, bee populations have been dwindling rapidly, with fewer bees there is less pollination of plants and crops which can have a huge effect on the ecosystem, ultimately potentially resulting in food shortages and certainly a lack of biodiversity on the planet.
 
Pragmatic Play hopes that their donations can help these groups raise more understanding and awareness of the very serious environmental issues that are happening around us.
Related and similar