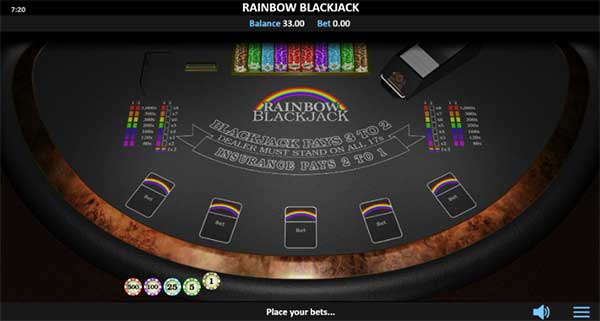 Leading casino content developer Realistic Games has taken the classic table game, Blackjack, and added a unique twist designed to cross-sell the game to more players than ever in Rainbow Blackjack.
Taking the casino staple of Blackjack, this new colourful version is the standard game with a new and exciting side bet. Within the traditional six decks of cards are a number of special cards all in vivid rainbow colours and if the first player's card dealt is coloured, they win their side bet multiplied by the value shown up to a maximum of x8.
Increasing the win potential even more, if the first and second cards are both different colours, the win is then multiplied by both their values (x7 orange x8 Red = x56 win). If both cards are the same colour, the side bet is multiplied by the set multiplier shown which can be anything up to x5000 for matching two red cards.
Rainbow Blackjack is also unique in the fact that it offers the option for players to go straight the side bet without playing the main Blackjack game, lending a further dimension to play and engaging those who are not necessarily traditional Blackjack players.
Robert Lee, Commercial Director of Realistic Games, said: "Like so many people worldwide, we're huge fans of blackjack at Realistic Games and our dev team has done a tremendous job in creating a simple yet engaging extra dimension to the much-loved classic."
"As well as adding a bold splash of colour to the table, the excitement generated by the side bet is a great addition to play and we're sure it's going to appeal to fans of table games and beyond thanks to the snappy playstyle that appeals to today's players and the prospect of the x5000 top prize."
Related and similar