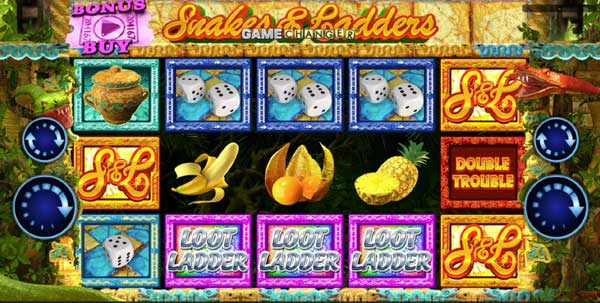 Leading casino content developer Realistic Games has added Snakes & Ladders, one of its all-time most successful titles, to its popular Game Changer® series.
Based on the classic board game played the world over, Snakes & Ladders Game Changer® takes the original fan-favourite 3-reel classic and reimagines it as a 5-reel, high volatility experience that is set to engage a new generation of players.
Packed with fun filled features, the highlight is the 400 square Snakes & Ladders board that presents players with the chance of reaching the 5,000x top prize. And with over a billion available game boards to start the Game Changer® bonus round, there is plenty of excitement waiting to be explored.
Depending on the Game Changer® board layout, a number of other features are also available, including Toco Toucan, Squirrel Monkey and Loot Ladder bonus rounds with the player winning the total of all prizes collected and the chance to trigger the features over and over again.
Bringing new levels of excitement that is synonymous with the Game Changer® series, the title promises a host of jungle adventures as players avoid the snakes and climb the ladders toward a win potential of up to 5,000x the stake.
Robert Lee, Commercial Director at Realistic Games, said: "This is a game that we've been looking forward to releasing for some time. The original is a favourite of operators and players alike, so to be able to add the Game Changer® mechanic to it is going to take it to the next level.
"It's an important release for us and our design team have done a fantastic job in recreating the appeal of the original while ensuring the immersion is there for today's demanding players."
Related and similar