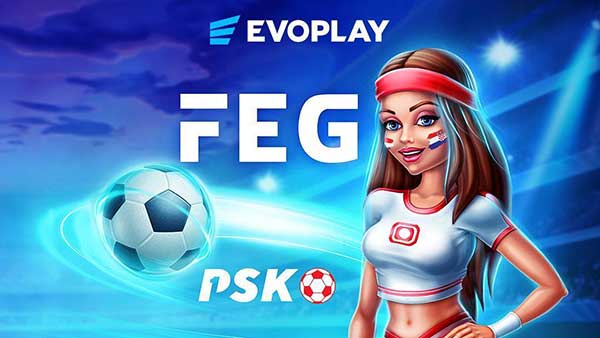 Innovative game development studio Evoplay has announced its latest expansion deal, in a move that will see the supplier partner with Central and Eastern Europe's leading omni-channel betting and gaming operator, Fortuna Entertainment Group (FEG). 
 
The long-term deal was signed to enable the supply of a range of Evoplay's top-performing games to Fortuna's first brands, including its Croatian-facing PSK Casino. 
 
Following the agreement, PSK Casino will have access to 43 games from Evoplay's portfolio – 31 slots and 12 instant games, including recent hits Penalty Shoot-Out, and long-term staples Ice Mania and Jelly Boom, which were designed specifically to facilitate the preferences of local players.
In addition, the two sides have also agreed to join forces in organising tournament activities for PSK Casino players, which are expected to launch this spring. 
In a move that is set to reflect its long-term plans together, Evoplay and FEG aim to continue expanding together across the operator's key markets, with Romania expected to follow.
Commenting on the launch, Vladimir Malakchi, CCO at Evoplay, said:
"We are delighted to have the opportunity to work in collaboration with one of the largest casino groups in Eastern Europe, Fortuna Entertainment Group. That is an exciting chance for us to be presented by leaders and well-known and recognised operators in the whole market. We did our best in order to  select the most performing titles in order to provide our partner's players with top-level gaming that is fully localised and adapted to their needs.  
"In addition, we have planned a variety of gamification activities for the year ahead, and by partnering with FEG, we expect to reach more players than ever before. We look forward to a cumulative cooperation that is soon to be strengthened by joining forces with other Fortuna's networks throughout the globe"
Mekinic Bozo, Brand & Sponsorship Manager at PSK added: 
"We are thrilled to have a developer with Evoplay's credentials join our network of partners, and are so excited to have the opportunity to provide our players with their unique collection of game products from slots to instant games.
"Delivering exciting products and engaging experiences has always been of paramount importance to us as a brand, and with Evoplay now joining our impressive network of partners, we have all the resources needed to fully facilitate joyful Croatian players' experiences. The PSK brand's slogan: "Play Your Game", fits well with the wide selection of Evoplay games.
Related and similar