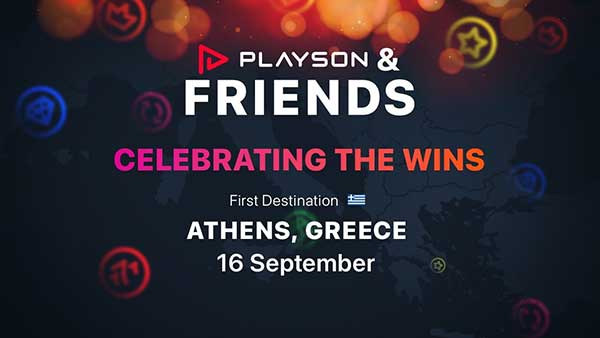 To commemorate Playson's impressive commercial performance in 2022, the company has launched 'Playson & FRIENDS' – a partner-focused initiative that sees the supplier honouring its global network of partner operators.   
 
Uniting Playson with its major collaborators, the launch demonstrates the supplier's appreciation of leading operators which continue to trust its exciting portfolio of casino games and promotional tools.
 
There will be a series of events in key regions, with a range of social activities planned. Each social gathering will guarantee a unique and delightful communal experience.
 
The first 'Playson & FRIENDS' event takes place in Athens, Greece in September at the Stanley Hotel's Cloud 9 Roof Bar. It follows the company's recent victory at SiGMA's Balkans/CIS Gaming Awards, where Playson was crowned the Best Game Provider of the Year, highlighting the supplier's thrilling product output and ability to engage a wide variety of players across the region.
 
Tamas Kusztos, Chief Commercial Officer at Playson, said: "We've been very pleased with our performance this year, and therefore it's only natural to thank those that helped make our success possible. Our network of partner operators has grown exponentially, and we really appreciate their hard-work and support.
 
"The first event takes place in Greece and allows us to celebrate our success in key regions which have served us well and seen us establish ourselves as one of the leading slot developers in this part of Europe."
 
Christos Zoulianitis, Senior Account Manager at Playson, added: "Our delightful group of partners have allowed us to expand rapidly, giving us the chance to captivate more players across the world.
 
"Therefore, we've launched this exciting initiative to thank them for their unrivalled loyalty, giving them an entertaining and social evening. We're looking forward to welcoming all of our special guests, in what will be a fantastic and pleasant evening."
 
Future 'Playson & FRIENDS' events will be announced in due course. Should you have any questions, please contact your dedicated Account Manager, or email at am@Playson.com.
 
Related and similar