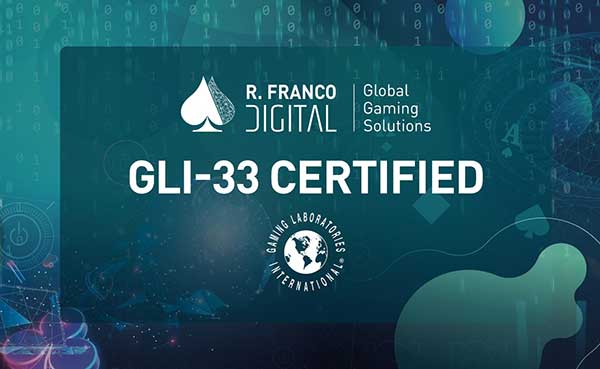 R. Franco Technologies SLU, a company belonging to R. Franco Group, has secured compliance certification from Gaming Laboratories International (GLI®) for its Platform Account Management, IRIS, covering Event Wagering Systems.
The sportsbook, casino and content provider received the accreditation following a rigorous evaluation, with the GLI-33 v1.1 Event Wagering Systems Standard. The certification for the group's platform implied an extensive review of the management system, features, framework and practices. It continues the company's commitment to reaching the highest quality standards.
By securing certification from GLI, R. Franco has reinforced its standing in the industry by receiving recognition from a world-class testing, certification and professional services laboratory.
Javier Sacristán, R. Franco Digital's International Business Director, said: "We are glad to receive the GLI certification for our proprietary platform. It recognises the hard work and expertise of our product and development teams, and it will help us to achieve our strategic objective to reach new markets in the near future."
Karen Sierra-Hughes, Vice President Latin America, Caribbean, and Spain for GLI, said: "We are grateful to R. Franco for trusting GLI for this important milestone in their plans for international expansion. We celebrate the company's commitment to integral compliance and the dedication their technical team demonstrated to comply with the GLI-33 standard diligently, thus putting themselves a step ahead to enter any jurisdiction with little to no time to market."
Related and similar