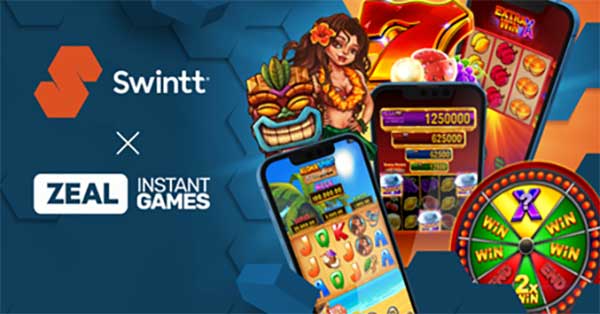 Having already carved out a reputation as a quality provider of Premium slot releases in Germany, sought-after software studio, Swintt, has this month announced it will be further strengthening its market presence in the country after agreeing a brand-new deal with ZEAL Network.
Primarily a lottery technology company that operates publicly through its B2C Lotto24 and Tipp24 brands, ZEAL Network is Germany's leading online provider of state-licensed lottery products and recently also branched out into virtual scratch cards and arcade-style releases via ZEAL Instant Games.
Following the company's latest collaboration with Swintt, however, ZEAL Network will now be able to offer a full suite of Swintt slots across its various platforms, giving German customers access to a rich and varied collection of classically-themed games as well as state-of-the-art titles in the Xtra series.
As highlighted above, it will likely be the SwinttPremium collection of games that makes the biggest impact with German customers, with these titles all being designed to faithfully replicate the classic design elements and gameplay mechanics of the traditional land-based slots found across the country.
Some of the titles in this range that will now be featured across ZEAL Instant include the recently-released, "Eisdiele"-themed Duolito Iceman – which comes with free spins and sticky wilds – and the two jackpot titles, Cleopatras Pearls and Seven Seven Pots and Pearls, both of which feature a thrilling free respins round where players collect instant cash rewards and one of four lucrative local prize pots.
Beyond the studio's SwinttPremium line-up, however, players across ZEAL Network will also find a range of state-of-the-art SwinttGames that all boast their own unique themes and features. With these titles typically boasting immersive graphics and sounds and a range of innovative bonus mechanics that players won't find at any other provider, SwinttGames are ideal for the modern video slot connoisseur.
Popular SwinttGames releases that will soon debut on ZEAL Network sites include the studio's first joker-themed title, Cash Joker, which features free spins and massive multipliers of up to 15x, and the explosive cluster pays slot, Electric Elements, which offers four unique symbol-smashing bonus modes.
With all that and more debuting on ZEAL Network in the coming weeks, the exciting new collaboration should help the company seriously bolster its casino game line-up while also enabling Swintt to connect with new customers in the German market – something both parties are looking forward to.
Lars Kollind, Head of Business Development at Swintt, said: "While Swintt has been working in the German market for some time now, we're always looking out for good opportunities to strengthen our presence by collaborating with quality online operators – and ZEAL Network certainly fit the bill in this respect.
"The brand has a long and decorated history in lottery products and recently branched out into Instant Games, so we're delighted to be able to share some of our slot expertise with them to enhance the casino offering across their network and put the Swintt brand in front of thousands of new customers."
Julian Tietz, Managing Director Games Business at ZEAL Instant Games, said: "Virtual slot games are becoming increasingly important in the gambling sector and will continue to establish themselves as a crucial business model in the lottery segment.
"For this reason, we are proud to be able to offer our players an extensive selection of exciting online games in our webshops ( LOTTO24, Tipp24 ). We are pleased to be able to sustainably expand our portfolio through the cooperation with Swintt, which is internationally known for its innovative games offering. We are very much looking forward to the cooperation."
Related and similar