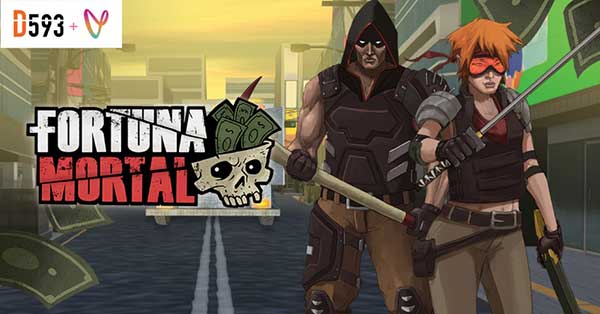 Vibra Gaming, the leading games and platform developer for the LatAm region, is calling on players to battle through hordes of hungry zombies to win big prizes in its latest multilevel scratch card, Mortal Fortune.
Aimed at the booming LatAm market, Mortal Fortune contains a series of innovative mechanics that will keep players coming back, creating a new and immersive experience compared to traditional scratch card products.
Players are faced with seven levels of zombies that differ in strength, each one triggering a series of in-game mechanics when selected. Each level passed multiplies the stake, and if they get through all seven, players reach a truck full of weapons, supplies, and cash.
Standing in your way are rows of the undead, each one similar in appearance but with hidden results when selected. First, players select a character to fight their way through, ensuring they have the sharpest weapons available to win.
Then they click on a zombie to reveal their colour and discover whether they can continue their perilous journey or fall at the hurdle. If it turns green, it allows the player to move to the next level but if it turns red, then the game is over and they must start again.
If the zombie turns yellow, however, a bonus is unlocked where a spinning wheel will appear and allow players will be able to multiply their initial stake.
This action-packed game also contains a unique cash-out feature, so if players feel events are getting too dangerous, they can cash out and keep the winnings they have already earned from a hard-fought battle against the ferocious flesh-eaters.
Similar to Vibra titles Millionaire Strike, and Monkey Treasure, two of the latest titles added to its portfolio, Mortal Fortune is a joint creation between Vibra Gaming and D593. While Ecuadorian studio D593 laid the foundations for the creation of the game, Vibra adapted it for the online market in an HTML5 version, achieving a product available for any mobile or desktop device.
Gabriel Núñez Del Arco, founding director of D593, said: "The work we did with Mortal Fortune was a great success. We have already produced three games in collaboration with the Vibra team and we are very excited with the final results. We are betting big on this new title!"
Ramiro Atucha, CEO at Vibra Gaming, said: "Players are going to love this game, from its popular theme, engaging graphics, immersive features, and the way it creates an experience they will enjoy coming back to, time and again.
"We have launched several new instant win innovations and Mortal Fortune fits firmly into that category. I look forward to seeing how it is received by our clients and their players and announcing many more unique games in the months to come."
Related and similar