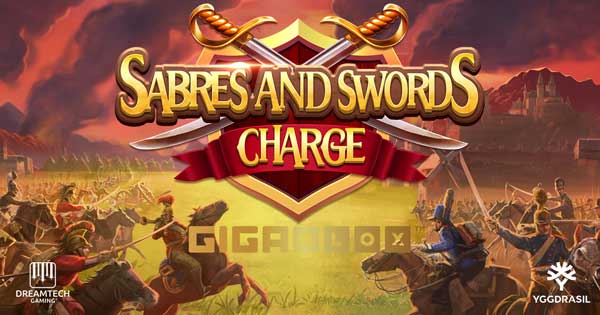 Yggdrasil Gaming has teamed up with Dreamtech Gaming to release Sabres and Swords Charge GigaBlox, a heroic slot demanding bravery in battle.
The action commences on a six-by-six reel surrounded by unique and eye-catching art and features Yggdrasil's successful Game Engagement Mechanic GigaBlox.
To trigger the Engage the Enemy Free Games, players must land five or more Scatter symbols, where they can brave the battle and collect more symbols to unlock Extra Free Games, with spins and wins multiplied by the title's Free Game GigaBlox Multiplier.
Sabres and Swords Charge GigaBlox guarantees excitement and huge potential, with the opportunity for GigaBlox falling on every spin. Blocks sized up to six-by-six can land but are then 'broken down' into individual 1×1 symbols to decide wins. The creation of a huge variety of reel and symbol configurations increases anticipation for all players.
Sabres and Swords Charge GigaBlox is the seventh title Dreamtech Gaming has developed as a YG Masters partner and the first to feature the GigaBlox mechanic.
The game is powered by GATI, Yggdrasil's state-of-the-art technology which enables partners to employ the preconfigured, regulation-ready, standardised development toolkit to produce consistently cutting-edge content followed by rapid distribution.
Stuart McCarthy, head of product and programs at Yggdrasil, said: "Our GigaBlox mechanic has captivated audiences around the world, and this time players are able to go into battle with it in search of glory and huge wins.
"Our YG Masters program continues to facilitate fantastic titles, and we're very happy with our latest collaboration with Dreamtech Gaming.
Kristian Hassall, Sales Director at Dreamtech Gaming, said: "Our newest heroic title offers players a chance to engage in a thrilling combat where great rewards await and we are especially thrilled to utilise Yggdrasil's fantastic GigaBlox mechanic for the first time.
"The implementation of the GATI technology has been a catalyst for our ability to produce exciting content to an increasing number of players, and we can't wait to see how fans react to Sabres and Swords Charge Gigablox."
Related and similar