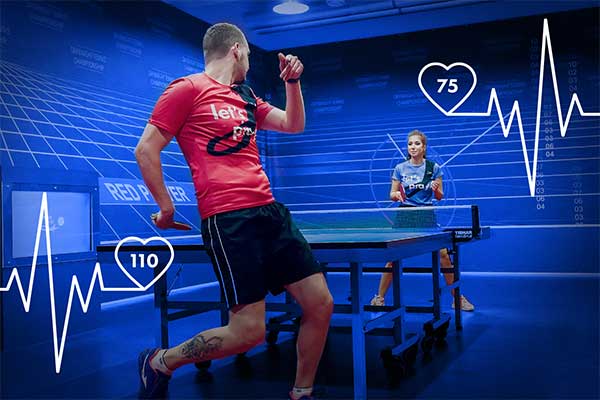 BETER, the industry's leading provider of next-gen betting and gaming solutions, has taken its Setka Cup (part of BETER Sports) to the next level, by integrating on-court table tennis players' heart rate data into its offering.
Having successfully implemented heart rate monitors into their Efootball ESportsBattle tournaments during the summer, BETER's trialled and tested model is now ready to add the feature to their Setka Cup's table tennis tournaments.
Designed to increase both incremental revenue and customer engagement for sportsbooks by delivering an entirely new element to the betting experience, BETER's in-game monitors are able to track and analyse the table tennis players' heart rate levels to track in-game performance and recovery rate.
The devices, worn on players' arms, use optical heart rate technology to provide the most accurate heart rate data available, which is then automatically collected and displayed on live streams.
Allowing bettors to make a more informed betting decisions than ever; BETER's tech analyses a vast range of data relating to their physiological response during matches and their ability to recover – highlighting their potential to achieve the best possible results.
As well as driving engagement, the Setka Cup will also benefit by monitoring and tracking the physical health of the participants throughout the tournament periods, as well as initiating resting periods to prevent over-exertion during the season.
In total, BETER's heart rate monitors are now available at multiple Setka Cup locations. The functionality is set to be implemented for all Setka Cup table tennis locations across CEE, including Ukraine and the Czech Republic.
Commenting on the launch Alex Lobov, BETER's Chief Product Officer said:
"We're all about delivering the most next generation betting experience out there, whether that be Esports or offline sports.
"Our Setka Cup caters to fans who love live action, and I believe that heart rate monitoring will help us strengthen the position of our table tennis product in our growing portfolio of fast content.
"Designed to be an excellent add-on to drive both revenue and engagement we predict our partners are like to see an average 2% increase in customer bets on Setka Cup table tennis events, as well as a 5% average increase in views of the Setka Cup live streams."
BETER's Setka Cup tournaments across table tennis, tennis and beach volleyball, are a part of its BETER Sports portfolio. The Setka Cup remains one of the largest daily sports tournaments worldwide.
In Q3 2021, the total number of table tennis, tennis, and beach volleyball matches reached 25,454 and increased by 15% compared to Q1 2021. During the same period, the number of betting participants increased by 25%.
Already renowned as a leading supplier of data and content, BETER is used by the likes of Sportradar, Bet365, William Hill and Fortuna Entertainment Group. The company recently overhauled its multiple verticals spanning fast sports, esports, gaming and live casino.
Related and similar