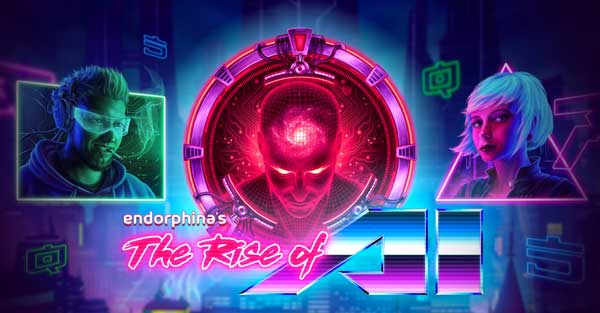 Endorphina's brand new slot – The Rise of AI – is a 5-reel, 3-row, 10 payline slot game that will bring players right into a new cyber world packed with robots, cyborgs, neon lights, techno music and many uncertainties.
After the global pandemic, humanity wanted to keep themselves safe and built AI X-50. But they didn't expect the AI to seize all power and automate the world they once knew. Because of this, most people lost their jobs, live under the poverty line, and are struggling to survive. To keep society afloat, the AI randomly gives away some money.
The AI supports players with a random multiplier. It stocks at random and on a whim, multiplying current winning combinations (if any) by a random number. The highest multiplier value possible is x50.
You can also gamble in the classic Risk Game. Choosing a card from the four cards dealt on the table, you can increase your win up to 10 times. If the selected card beats the Dealer's card, the win is doubled, and you can try again. If the Dealer wins in any round, the risk game ends with no wins awarded to you.
Not matter how hard the life is, there's still a chance for heroes. In "The Rise of AI" you will try on the role of a fearless hacker who wants to break the system and help us – the humans.
The CEO of Endorphina, Jan Urbanec, shares his thoughts on the upcoming release:
"Endorphina's team is excited to bring to its players and operators our vision of a cyberpunk world. "The Rise of AI" contains a mathematical model with one of the best big winning potential for players that Endorphina has ever created."
Related and similar