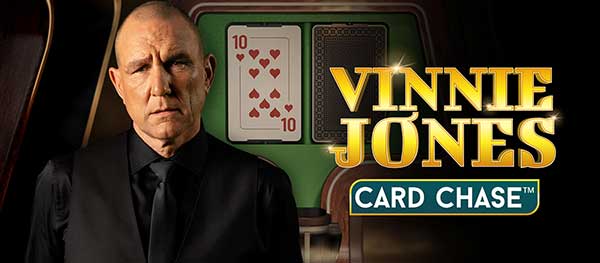 Hollywood-style games producer Real Dealer Studios have launched their first hi-lo product, a gameshow-style title featuring iconic tough-guy Vinnie Jones.
Dressed in a slick, black suit, the 'Lock, Stock and Two Smoking Barrels' star welcomes players to the game, explains the features, announces each new card as it comes up on the board and reacts in one-to-one fashion to the player's individual results.
Vinnie's interactive performance in Card Chase was made possible through cinematic RNG, an innovative process created by Real Dealer whereby cinema-quality recorded video is integrated into a random number generator-based game framework.
The approach closely mirrors that of Hollywood filmmaking, with professional actors, directors and production crew delivering polished footage of dealers and gameplay. The resulting games represent a leap forward in quality and realism in the RNG games sphere, which until now has been limited to using computer-generated graphics.
In addition to offering the star power of a celebrity, Vinnie Jones Card Chase features a bonus round every 15 rounds where a guaranteed multiplier can boost the player's winnings by up to 200x. There's also a collectable 'skip' function that allows players to skip cards they don't like.
"Card Chase was already going to be a hit thanks to its fast pace and exciting multiplier rounds but having Vinnie host it really launches the potential into orbit. His bombastic personality adds so much flavour to the experience and opens doors to attracting not only his die-hard fans, but operators' sports betting customers at large," said Shane Cotter, Chief Product Officer at Real Dealer Studios.
Vinnie Jones Card Chase is the fourth in Real Dealer Studios' series of titles starring the former Crazy Gang member. He acted as dealer in Vinnie Jones Roulette and Vinnie Jones Blackjack, and answered fan questions while co-hosting Vinnie Jones Stories Roulette, all released in autumn of 2022.
Vinnie Jones Card Chase is available exclusively from Games Global.
Related and similar