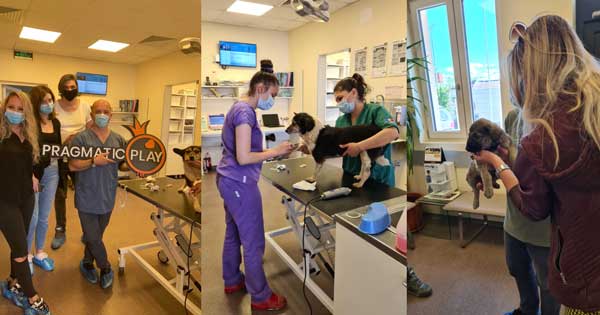 Pragmatic Play, a leading content provider to the gaming industry, has donated €7,700 to the Homeless Animal Hospital, an NGO which assists and treats homeless animals in Romania.
The project is carried out by Romania Animal Rescue, in partnership with World Animal Veterinary Emissaries, which is a collection of 20 doctors, nurses and auxiliary staff whose goal is to help animals.
The programme helps abandoned dogs and cats in shelters that come from low-income families or belong to disadvantaged groups who can't afford private veterinary treatment.
Pragmatic Play's donation marks its latest contribution to key societal causes, following a €21,000 donation to The Metropolis Philanthropic Foundation, with the contribution funding the redevelopment of the children's oncology ward at the Clinical Institute Fundeni.
In recent months, the provider has extended its commitment to helping NGOs, after donating to numerous causes in Malta, contributing to Women for Women on International Women' Day and playing a key role in the refurbishment of a sports pitch for Prior Park School in Gibraltar.
Cătălin Bratosin, Head of Games Development at Pragmatic Play, said: "Pragmatic Play integrates kindness, respect, and compassion in all aspects of its vision and supports those who fight for a safe, healthy, cruelty-free world.
"With the donations received, the Homeless Animal Hospital puts all its efforts into rescuing, treating, rehabilitating, feeding, and sterilizing more animals than ever before. The NGO saves the lives of many stray pets, offering emergency care to all animals in need.
"I am proud to be part of a company that proactively contributes to the well-being of so many communities, recognising its responsibilities beyond the iGaming industry and improving the lives of others out of genuine compassion."
Julian Jarvis, CEO of Pragmatic Play, said: "The importance of pets in people's lives is clear, yet when a loved companion falls ill it can place an unnecessary burden on vulnerable families to pay for treatment. The Homeless Animal Hospital offers support to those in need, including abandoned animals, to ensure they can live happier and healthier lifestyles.
"We take our commitment to society very seriously and are glad we can support such an important institution."
Related and similar